Panel Blinds
Are you seeking a smart window treatment solution? Have panel blinds been given any thought? They are a stylish and modern alternative for windows on the bigger side, bi-fold, or even patio doors. These blinds are so adaptable that you could even use them to partition rooms. Just in case we're explaining the panel blind concept to you for the first time, panel blinds are a creative type of curtain that resembles sizable cloth panels that can neatly stack when opened. This layout makes it possible to bring the lightest possible into a room. With these panels' simple operation and elegant appearance, you can change the brightness in any space, increase privacy, and minimize glare.
Modern panel blinds that use broad fabric panels to glide across a multichannel track are called panel blinds. The bottom bar is weighted for the fabric panels to keep their smooth appearance. Panel blinds offer complete control over your privacy and the amount of light that enters the area and are perfect for bigger windows, patio doors, or even as room dividers. These blinds can stack behind one another when fully closed, letting the most light possible into your space. A 5-channel track and roller cloth panels resembling enormous vertical blind slats are used in panel blinds. The width, drop, and several panels you select will determine the ultimate size of the panel components.
DUBAI BRANCH
Risala Furniture LLC 9 24 A street, Al Quoz 1 Dubai – United Arab Emirates
ABU DHABI BRANCH
Abu Dhabi Island, Al Salam Street Behind Abu Dhabi Municipality And FAB Bank Heirs. Of Ibrahim G. Sultan Al Suwaidi Building ONLINE FURNITURE – Showroom no. S2 Abu Dhabi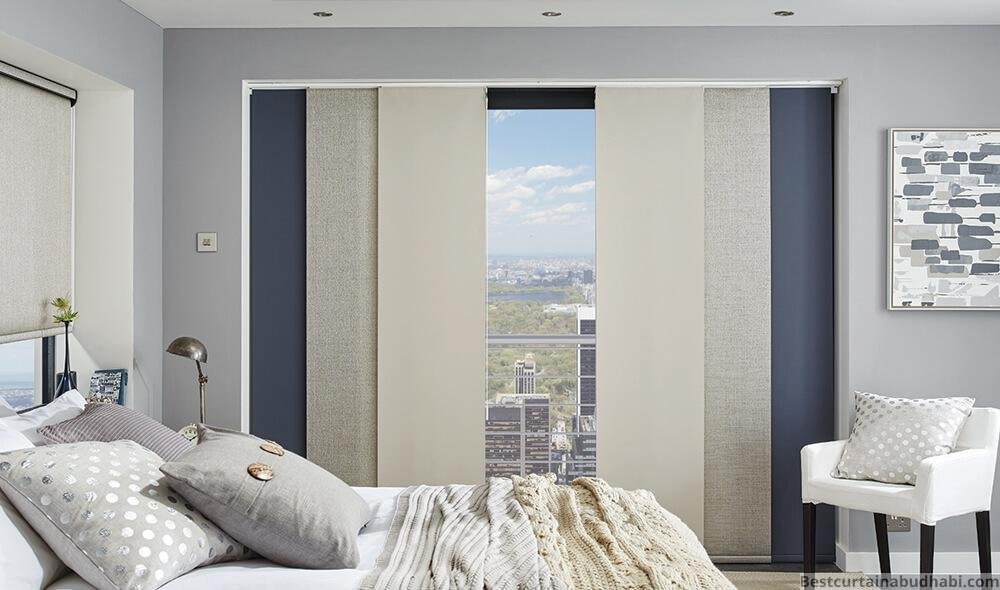 How Creative Can You Get With Panel Blinds?
Prepare yourself for some short advice to inspire your creative side. Panel blinds' adaptability gives you a wide range of possible uses.
For instance, if you want to make a statement and add something unique to the décor of your room, the one-panel blind arrangement you may select for the area is a contemporary blind. As was already noted, panel blinds' versatility allows them to create a classy aesthetic for living rooms, family rooms, media rooms, and bedrooms, as well as for commercial settings and workplaces.
Installing contemporary bi-fold doors should not result in privacy compromise. Panel blinds are the ideal choice for any door that is challenging to cover. They are fantastic for larger glass areas, but they are also great for smaller glass areas. Panel blinds have the power to change any space and make a striking aesthetic statement, whether they are elegantly draped over smaller pieces or extravagantly flowing over big regions.
Why not give your living room or workspace a more contemporary style and feel? Consider adding chic panel blind room dividers to turn specific spaces into private hideaways. Because there are so many fabrics and textures to choose from, you can find a style you can modify to fit your unique design.
Why Choose Panel Blinds From Best Curtain Abu Dhabi?
The products available from Best Curtain Abu Dhabi are unique and elegant. We place a high priority on the product's quality and timely delivery at competitive prices. We provide services to assist both beginning and seasoned traders. We currently deal in many products, including a well-known product of these products on a global scale. We are engaged in providing unique products, including Panel Blinds and much more, to various industries located in Abu Dhabi.